Sunny Hill Enterprises, Inc.
Check out our NEW
Dumoulin Action Scope Rings!
Fit the top dovetails on Dumoulin Mauser receivers
Two Styles: Quick Disconnect (QD) and Fixed
1" or 30MM ~ Matte Blue finish
In stock and ready to ship today!
Email or call to place an order:
(920) 898-4707
The Bottom Metal People
Sunny Hill Enterprises is the nation's leading provider of trigger guard assemblies and gun parts for the custom rifle market. With time-tested design, unmatched quality, and unparalleled fit and finish, components manufactured by Sunny Hill are certain to satisfy even the most discerning customer. Using state-of-the-art CAD/CAM technology, high precision machinery, and innovative fixture design, we are able to produce consistent, high quality parts. Try our parts for yourself. Hear the vault-like sound as the floorplate snaps shut. See what nearly 20 years of experience has taught us. Then you will know why we are called "The Bottom Metal People".
Finally, a good option for your '03 Springfield!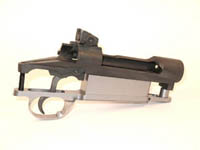 After years of listening to our customers beg, we broke down and are now making a trigger guard assembly for the 1903 Springfield rifle. As you would expect, it is made to the same high standard asall of our other components. The internal dimensions of the integral magazine box match the military components. We have these assemblies in stock, ready to ship!